Electrical Muscle Stimulation in Glen Carbon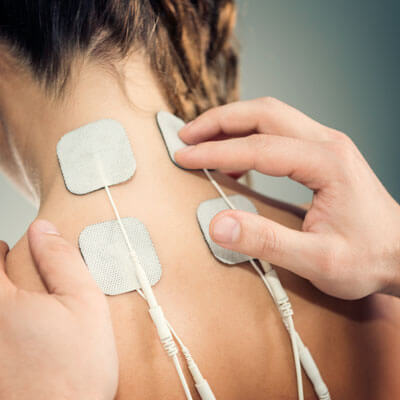 At Superior Chiropractic & Rehab, we offer our patients a wide range of therapeutic modalities to augment their overall healing process. By providing comprehensive services under one roof, we give you all the tools you need to get your body back on track, feeling great and moving optimally.
Electrical muscle stimulation (also called e-stim) is the process of directing a specific, safe level of electric current through the muscles. It can often be very helpful for patients suffering with pain and inflammation.
NEW PATIENTS

How It Works
When the electrical current hits the targeted muscle, it stimulates the muscle to relax. Anyone who has ever had a muscle spasm knows how painful that can be, and how difficult it can be to get the muscle to "let go." E-stim is often a very effective means of reducing muscle spasm, which alleviates the pain. It also helps to diminish inflammation in the tissues, promoting healing.
Although the therapy uses an electric current, it doesn't shock you. It's a safe frequency of current that produces a mild tingling sensation.
Who It Helps
Dr. Brad will thoroughly assess your situation to discover the underlying cause of your pain or dysfunction. If muscle stim can help you, he will include it in his recommended care plan. This therapy can be especially helpful for pain-based symptoms associated with conditions such as:
We'll include the therapy as part of your regular chiropractic visit. It takes about ten minutes, and most patients feel improvement in their pain almost immediately.
Paying for Care
Dr. Brad will go over your care plan in detail, along with all costs involved, so you'll know exactly what to expect. In addition, we'll verify your insurance benefits for you before you commit to care so there are no surprises.
Some insurance plans cover this service; we'll let you know if yours does or not.
Don't Spend Another Minute in Pain
Contact us today to schedule your Discovery Visit. We'd love to help you find out how electrical muscle stimulation can positively impact your life!
CONTACT US
---
Electrical Muscle Stimulation Glen Carbon & Edwardsville IL | (618) 844-1993