Meet Dr. Brad Polen
A Passion for Wellness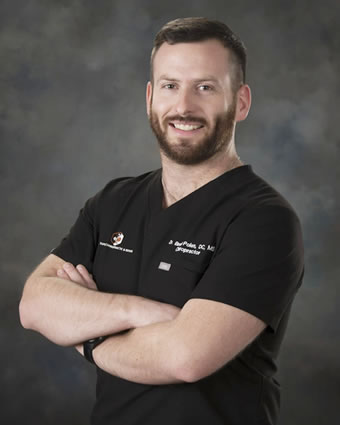 Dr. Brad's desire to become a chiropractor stemmed from his love of fitness, wellness, and health. He is a Logan University graduate, where he received his Doctorate of Chiropractic degree. He's been in private practice since opening Superior Chiropractic & Rehab in 2021.
Experience and Expertise
Prior to becoming a chiropractor, Dr. Brad was a scientist and a professor at Case Western Reserve University School of Medicine in Cleveland, OH for 10 years. There, he treated thousands of patients and trained the next generation of physicians.
After completing his doctorate, he started teaching at Saint Louis University School of Medicine to continue training medical students. As a chiropractor, Dr. Brad uses his love of teaching to educate our patients about their condition and how our care may help them recover without drugs or surgery.
This, in combination with his compassion for others, is why Dr. Brad wants to help you with your back pain, neck pain, and headaches—without prescription drugs or surgery! Working with individuals of different ages and levels of injury who are looking to avoid surgery or relying on pain medication is the most rewarding aspect of Dr. Brad's career.
EXPLORE OUR SERVICES

Keeping Active Outside of Superior Chiropractic & Rehab
When he's not in the office, Dr. Brad loves going to the gym to play basketball or lift weights, going to local farmer's markets, trying out new escape rooms, breweries, restaurants, and spending time with friends and family. He's so grateful for the opportunity to serve the wonderful community of Glen Carbon/Edwardsville!
Learn How We Can Help You
We'd love to learn more about your health goals. Contact us today to schedule your first appointment.
CONTACT US
---
Dr. Brad Polen | (618) 844-1993